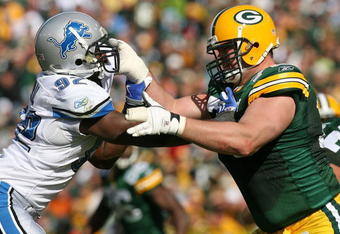 "Some people try to find things in this game that don't exist but football is only two things - blocking and tackling."
--Vince Lombardi
Consider this: in the Packers 6 losses last season, they were out-sacked by 24, for a differential of -111 sack yards. In only one of those games - against Pittsburgh - did they win the sack battle. In their 11 wins, they out-sacked their opponents by 5 for a differential of +20 sack yards. After Mark Tauscher began starting again at tackle, and the offensive line finally had some stability, the Packers only lost one game for the last 8 weeks of the season, and only lost the sack battle one time, 1-0 in a meaningless game against Arizona in Week 17.
Pretty interesting, no?
Simply put, the offensive success depends on keeping pressure off Aaron Rodgers, and the defensive success in Dom Capers' scheme relies on putting pressure on the quarterback.
That is why the trenches will be so important this season.
I really believe that the offensive line has finally got it sorted out. They showed, at least as a first unit, in the preseason that they have formed a cohesive and formidable part of the team. It was one of the things I was really hoping to see this August, and it made me enormously happy to see that Aaron Rodgers didn't get sacked once in the preseason. This year they are basically returning the same starting offensive line, and they have added some quality depth with 1st round draft pick Bryan Bulaga. "Super sub" Jason Spitz also returns, and while some of their other guys may be relatively inconsistent, they almost all have game experience and are solid reserve players. This is all peachy, but the line has to stay consistent into the season, when defenses will actually start scheming, showing different looks, and disguising blitzes. The offense showed it can put up points even when Rodgers was hurried last year, but clearly the Packers offense was at its very best when Rodgers has time to pick apart the defense, and Grant has lanes to run.
Last year Rodgers was sacked 50 times, but only 14 times in the last 8 games of the regular season with essentially the same offensive line that will be lining up in front of him this year. Project that out for an entire season and you get 28 sacks total. Compare that to the 40 times that Favre was sacked in the 1996 Super Bowl year, the 25 times Favre was sacked in the 1997 NFC Championship year, and the 15 times Favre was sacked in 2007. If the offensive line maintains its level of performance from the end of last season - they will be more on par with sack rates in the most successful seasons in recent Packer memory.
Football Outsiders advanced stats from 2009 show that the Packers were a good run blocking team, but they were 3rd to last in the league in adjusted sack rate, bearing out what most Packers fans already knew. This team struggled with keeping Aaron Rodgers on his feet at times last season, particularly early on.
The offensive line does not need to be exceptional. Aaron Rodgers continues to develop in his 6th NFL season, and has become adept at recognizing blitzes, coverages, and improving a quick release in the passing game. Audibles to quick slants and short hitch routes have gotten him out of trouble on blitzing downs on numerous occasions. This, combined with the solidifying offensive line, should combine to produce good offensive results this year.
Perhaps more importantly is the development of the defensive line, and the pass rush overall - which in the 3-4 defense incorporates the outside linebackers on a regular basis. The scheme will be part of the pass rush's effectiveness, as evidenced by the fact that a healthy 20.2% of quarterback hits registered last year were by middle linebackers or defensive backs. Capers loves to blitz from many different directions and with a number of different combinations.
However, I think that the absence of two players will prove critical. No, I'm not talking about Atari Bigby and Al Harris. I'm talking about Aaron Kampman and Johnny Jolly. Both Kampman and Jolly had great seasons last year - Kampman when he was healthy - and I think that both will be missed more than people think. Advanced NFL Stats says that Kampman and Jolly combined added about 5.78 points per game, and were the 3rd and 8th most valuable players on defense by that particular yardstick.
The Packers did nothing at all to replace the departed Kampman, and decided to essentially stick with the players they had. Brad Jones was slotted to be the replacement, but compare the two. Kampman had 16 quarterback hits and 4 sacks in 9 games, while Brad Jones had exactly half that production in 12 games. Or, put another way, Jones was only producing hits and sacks at about 37% of the per-game rate that Kampman was. Even though that sounds awful, the other options are even worse. Chillar was producing at about 22% of the per-game rate as Kampman, and Poppinga at only about 4.9%.
Quite simply, the Packers only have one pass rushing linebacker with proven NFL experience, and that is Clay Matthews, a second year player. If I have one gripe about the offseason that Ted Thompson put together, it's that he didn't make a push in free agency to sign a pass rusher, or to make a trade for one. Now the Packers are sitting with a ton of talent at tight end, and at other positions, that they could have used as trade bait to at least bring in a serviceable pass rusher. Who knows, Jones has put on weight in the offseason, and perhaps with a whole training camp focused on being a 3-4 OLB, he will blossom into the role.
Why does this worry me? Because in games where the Packers were unable to generate much of a pass rush (such as the playoff game in Arizona, or both games against the Vikings), the quarterback can just stand back and pick the defense apart. I think that who winds up playing the nickel and dime back may ultimately wind up being inconsequential. What is of the utmost importance is to get to the quarterback, and protect our quarterback, and that all starts with the big men up front.