Leadership, confidence, and an ability to turn past failures into positive play are important in a Super Bowl run. The last time the Packers had those elements were in 1996. Image: postcrescent.com
I was just listening to 1250 WSSP in Milwaukee, and LeRoy Butler had an interesting story. He was discussing how Mike Holmgren was supremely confident in his team back in 1995. He said that Holmgren's thinking was that, even on the Packers' worst day, they could not be beat. The Packers bought into this, and they mirrored their coach's confidence. And, of course, the Packers lost in the NFC Championship Game to Dallas that year. However, Butler said that on the plane ride home, Holmgren walked down the aisle of the plane and was telling guys who were feeling bummed, "It's okay, because we're going to win the Super Bowl next year." Think about that. He told them they would win the Super Bowl, the coup de grâce of American sporting events.
And they did.
It was the Packers' first championship in nearly three decades, and Holmgren was telling his guys a year in advance that they would do it.
Why is this relevant?
I see the same sort of confidence with this Packers team - the same sort of confidence and desire. Of course, you have the desire to win the Super Bowl on every team. But there's a difference in that desire on championship level teams, and on the rest of the teams in the NFL. The core of this team has experienced some pretty heartbreaking playoff losses in recent years. In 2007, the Packers were one game away from the Super Bowl and they saw it slip through their fingers on their home field. They know what it's like, and they know how quickly a nice run can end. And despite that experience, they came into the playoffs in 2009 feeling like world beaters. You heard lots of variations on the theme "we're so tough to stop" in that week leading up to the Cardinals game. And the Packers made another too-early exit from the playoffs.
The core of this team should know now what it takes in the playoffs. If you look at the first two playoff games of this season, it would appear they do. And the Packers seem confident, but this seems to be that mature confidence that comes with losing some big games in recent years and yet knowing how good of a team you have. Look at the number of veteran players on this team who have caught a whiff of several Super Bowls, only to have the door slammed in their face: Charles Woodson, Donald Driver, Chad Clifton, Mark Tauscher, and Ryan Pickett.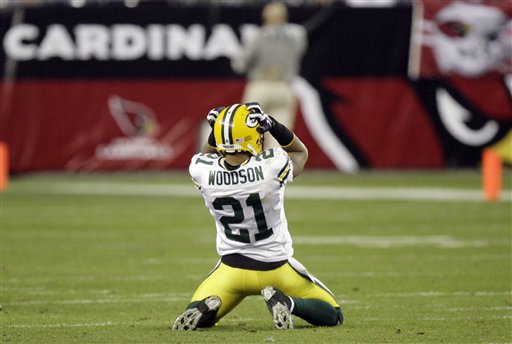 Woodson during the playoff loss against Arizona in 2009-2010 season. Image: annarbor.com
An interview that Lori Nickel had with Donald Driver before the recent Atlanta game was particularly interesting. Here are a few of the more interesting comments. I apologize for the long quote, but I think all of it really speaks to what I was talking about regarding the desire:
JS: The Super Bowl. It's going to be tough, the sixth seed, all on the road. When do you pull out the pregame speech of all time and tell the younger guys?

DD: You don't.

JS: There are only four guys (Driver, Charles Woodson, Chad Clifton and Ryan Pickett) with 10 or more years experience on this team. You don't say anything?

DD: No. You go out there and you play. And those guys see that. Last week was one of those things I told the guys, you know what? We just have to go and play. We're here. There's only once chance. I told our receivers, 'you're not young anymore! It's going to get to the point where some of you will play 10 years, some only five or six. We've got to win it now. This is it.' There are guys in the locker room who say, 'I want to win the Super Bowl now, because next year is not promised.' There's only one chance to get this thing. When you start looking at it that way – instead of saying, 'oh I got next year, oh I got next year' – the years are not promised to you. I tell the guys, 'I have been in this league a long time. But how many NFC Championship games have I been to?

JS: (One, 2007)

DD: How many Super Bowls?

JS: None.

DD: 'Wood' can say, I have been to one Super Bowl. But he can also say, 'I ain't never won one, either.' Me and 'Wood always talk about it – it's just trying to get that ring.
"We've got to win it now. This is it." That was the quote that stuck with me. Driver and Woodson know they don't have many years left. Clifton, Pickett, and Tauscher know they don't have many years left.
In 2007, the Packers hadn't been agonizingly close to the Super Bowl in awhile. They were a different team. They were developing a different core of players. And, in 2009, the Packers were overconfident. They didn't stay humble. They had a good team, but they hadn't put it all together.
Guys like Woodson and Driver can say they don't give big speeches, and maybe they don't because I'm not in the locker room to know. But you can also tell that they are tremendous leaders, because the younger guys are picking it up. How do I know? I submit several tweets sent by Sam Shields (@stickyshields9) this week - the first two before the Atlanta game, and the last one after the Atlanta game:
Headed to work! ATL this weekend! One chance!!
Just landed in ATL to get to work let's it one chance baby!!
Just had a great talk with my big bro Charles Woodson I'm learning!!!
One chance. That's a theme that a lot of the Packers have been echoing this year. You never know when you'll be back with a chance to win it all. It's motivating everyone on the team, and the Packers are truly blessed to have player leaders like Woodson and Driver. Referring to getting a ring, Driver said in that Nickel interview, "Our receiver group, that's all we talk about."
I think the players on this team finally have enough experience to both stay humble and know their skill level. The Packers have also finally have a coaching staff with a mix championship experience and tough playoff losses to their records. Mike McCarthy has finally piloted his team to the playoffs on several occasions, and can learn from those experiences. Dom Capers was the head coach of the Panthers when they lost in Green Bay in the NFC Championship Game in 1996. Edgar Bennett was a major part of the Packers' Super Bowl teams in the last decade. Kevin Greene was in the 1995 Super Bowl when the Steelers lost to the Cowboys, and he was part of Capers' Panthers team that lost to the Packers in 1996.
The point is that the Packers have a ton of guys in their organization that know the agony of coming up just a little short of getting a ring. And now, I think they finally have the right combination of desire and skilled players to get it done.
The Upcoming Game
The Bears do scare me a little bit. They have a solid defense, and a lot of guys on that defense who were a part of the Bears Super Bowl loss to the Colts in 2006. They seem to get lucky when they play in Chicago, and they always seem to play harder against the Packers. I think that Lovie Smith has instilled that fire about beating the Packers. 
A great stat to "bear" (no pun intended) in mind was presented by this Sports Illustrated article:
Cutler is 1-3 against Green Bay since arriving in Chicago before last season. He has not been on the plus side in turnover differential in any of those games, and overall he has thrown nine picks and only four scores while completing just 55.8 percent of his passes.
And the one victory, earlier in this year, came when the Packers shot themselves in the foot over and over again - making stupid mistakes and committing stupid penalties. The good news is that the Packers seem to be a different team lately. Despite breaking a franchise record for penalties in that game, the Packers wound up finishing the season 3rd in the NFL in penalty yards per game with just 38.7, only behind Atlanta and Miami. The Packers are also 3rd in the NFL in turnover margin per game (+0.7) behind only New England and Pittsburgh, while the Bears are 12th (+0.2). 
In games that he's started and finished, Aaron Rodgers is 9-1 in his last 10 after starting the season 3-3. In the last 4 "elimination games" the Packers have had an average victory margin of +16.8ppg, with Rodgers 93-128 (72.7%) for 295 ypg, 11 TD, and 1 INT. When you eliminate the special teams touchdown that Atlanta scored, the Packers defense has given up an average of 12.5 ppg, the most being the 17 points conceded to the Giants.
Basically, the Packers have been on a roll.
And the Packers have been able to play with every team in the league so far this year, even when they were struggling at the outset, and even when they have had an unbelievable amount of injuries. Giving a significant amount of playing time to guys like Erik Walden and Howard Green, rookies like Sam Shields, Andrew Quarless, and James Starks, the Packers have pulled together and had players step up.
They have not lost by more than 4 points this season, and their biggest deficit of the year still stands at 7 points. Therefore, I think that no matter what the Packers will be in the game with a chance to win. And with the amount of experience and desire on their team, I think that gives them an excellent chance to be the NFC representative in the Super Bowl.
"Leaders are made, they are not born. They are made by hard effort, which is the price which all of us must pay to achieve any goal that is worthwhile."  --Vince Lombardi