The secondary of the 2011 Packers are apparently momentarily troubled and rebuilding. They are not exactly overwhelmingly dominant this year as they were last, but still seem to come up with big plays when they matter most. Cornerback Charles Woodson has been an essential piece in the center of these moments. The man continues to rack up the kind of stats that are-in a sense- expected of him, all whilst recovering from a broken collar bone and battling a foot as well as a knee injury this season.

The veteran in his fourteenth season has obviously not lost his explosiveness, already with one sack. His solid ability as a play-maker was beautifully displayed in Minnesota, once undercutting Christian Ponder's pass to Shiancoe for an interception and another on a similar outside route to Jenkins. "Poochie" had done his part and McCarthy's boys took advantage by scoring on both turnovers. One fumble recovery and 62 return yards on five interceptions shows he has also apparently retained his ambidexterity in terms of any possible offensive production from a corner. If I were a gambling man, I would put my money on The President of the United States receiving another signed jersey this season. That's not to say I approve of any player verbalizing their premature Super Bowl predictions, but I cannot say that Woodson's post-game oratory doesn't invoke a certain adrenaline rush. If you asked me I'd say, "Sign away Charlie".
 Let's just hope the Packers can make good on his promise another year.
-R.L.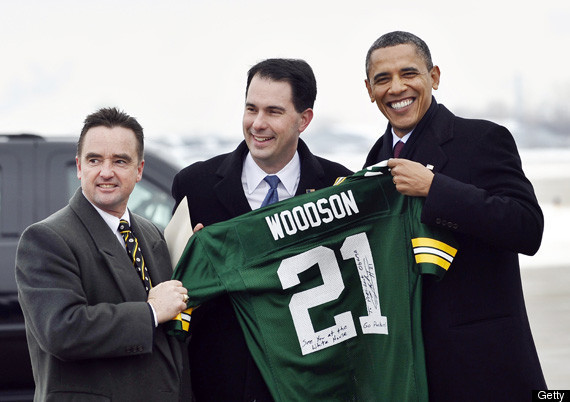 Career Stats
SEASON
TEAM
GAMES
TACKLES
INTERCEPTIONS
FUMBLES
G
GS
TOTAL
SOLO
AST
SCK
SFTY
PDEF
INT
YDS
AVG
LNG
TDS
FF
FR
TOTAL
835
698
137
14.0
0
168
52
895
--
62
11
27

11

 

 

 

2011
GB
7
7
26
20
6
1.0
0
8
5
62
--
30T
1
0
1
2010
GB
16
16
92
76
16
2.0
0
13
2
48
--
48T
1
5
--
2009
GB
16
16
74
66
8
2.0
0
18
9
179
--
45T
3
4
1
2008
GB
16
16
62
50
12
3.0
0
17
7
169
--
62T
2
1
1
2007
GB
14
14
63
52
11
0.0
0
9
4
48
--
46T
1
0
2
2006
GB
16
16
62
51
11
1.0
0
20
8
61
--
23T
1
3
1
2005
OAK
6
6
30
26
4
0.0
--
4
1
0
--
0
0
1
--
2004
OAK
13
12
73
58
15
2.5
--
9
1
25
--
25
0
2
1
2003
OAK
15
15
69
56
13
1.0
--
8
3
67
--
51
0
1
1
2002
OAK
8
7
33
31
2
0.0
--
4
1
3
--
3
0
4
1
2001
OAK
16
15
52
39
13
2.0
--
10
1
64
--
34
0
1
--
2000
OAK
16
16
76
63
13
0.0
--
13
4
36
--
23
0
3
1
1999
OAK
16
16
61
51
10
0.0
0
15
1
15
--
15T
1
0
1
1998
OAK
16
16
62
59
3
0.0
0
20
5
118
--
46T
1
2
--