First post for me a quite a while. I'm here with a mock draft for the Pack.
I'm using CBSsports' rankings plus the consensus big board that can be found over at Mocking The Draft.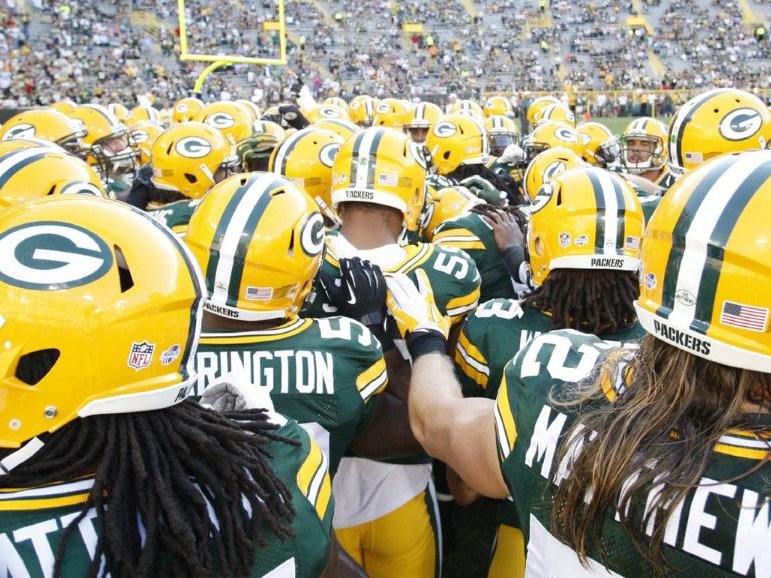 Because I don't want to cripple my mock by forcing the Pack to get a starter-ready safety (either Pryor or Clinton-Dix) and Green Bay has cap space, let's assume Thompson spends a few bucks in free agency on a potential starter like Chris Clemons. This allows the Pack to possibly wait a bit to get a safety if the value isn't right in the early rounds.
You'll see an emphasis on offense early on. Why is that? The Packers let all of their offensive free agent starters (Jones, Finley, EDS) go this season, while resigning 3 on defense (Raji, Neal, Shields) and going out to get Julius Peppers.
3rd and 5th Round compensatory picks.
1st Round- 21

Eric Ebron, Tight End, North Carolina
6'4" 250 lbs.
Finley probably isn't coming back at this point, and even if he comes back for cheap, that should not deter Thompson for selecting Ebron at 21 Overall. Ebron's the real deal as a Tight End prospect. He possesses elite speed for a 6'4" 250-lb body, as he ran a 4.60 at the combine. He's the "new age" Tight End that linebackers can't run with, and safeties and corners can't body up against. Matchup problems.
An Ex-NFL Scout, Russ Lande, stated that Ebron could be better than Jimmy Graham. Lande thinks Ebron's the best TE prospect he's looked at since Kellen Winslow Jr. Dane Brugler of CBSsports compares Ebron to Vernon Davis of the 49ers:
COMPARES TO: Vernon Davis, TE, San Francisco 49ers - Freaky athletic specimens, both Ebron and Davis move like wide receivers, but have the size and length of tight ends to create mismatches in coverage.

--Dane Brugler (1/7/14)
He's shown the ability to line up all over the field: Split wide, in the slot, in-line as a tight end, and in the backfield. He'll probably step right in to the role that Finley no longer occupies. He'll become a favorite target for Rodgers quickly.
Ebron chose to enter the draft after a Junior season that saw him catch 62 passes for 973 yards and 3 scores. He averaged over 16 yards a catch for his career.
Watch Ebron vs NC State (2012)
Watch Ebron play against Duke (2013)

Watch Ebron's official ACC Network highlight reel.


2nd Round - 53
Jordan Matthews, Wide Receiver, Vanderbilt
6'3" 212 lbs.
The Packers go with a WR over a Safety or inside linebacker to get the best value, and another big target for Rodgers. Matthews left Vanderbilt as the SEC's all time leader in yards and catches. It's even more impressive when you consider he didn't have a star quarterback throwing to him.
Matthews is big, and runs well at the same time. He isn't an elite athlete at his size, but he has decent top end speed (and backed that up with a 4.46 at the combine) and runs fluidly. With James Jones gone to the Raiders in free agency, there's a lot to like about Matthews being available here.
Dane Brugler goes over some of Matthews' strongsuits:
STRENGTHS: Chiseled frame that was more impressive than higher-profile names also at the Senior Bowl. Size/speed combination along with his hand/eye coordination and body control makes him an attractive prospect, showing the ability to make plays at all levels of the field and do damage after the catch.

Balanced route-runner with a sizeable catching radius. Size allowed him to be moved inside and out in Vandy's offense, allowing the team to find him favorable matchups. Detailed and reliable route-runner. Very good hand-eye coordination to haul in tough passes, including one-handed catches.
Matthews finished his career at Vandy with 262 catches for 3,759 yards, both SEC records. As a Senior, Matthews had 904 yards receiving in conference games alone, while totaling 1,477 and being a semifinalist for the Biletnikoff award.
Watch Matthews' highlight reel.
3rd Round - 85
Terrence Brooks, Safety, Florida State
5'11" 198 lbs.
Safety is a top need for Green Bay. Safety could've been a choice in round 2, but the top three guys (Clinton, Pryor, Ward) would've all be off the board, and there's a big dropoff after those three.
Brooks is a smart value here. A converted corner, he played deep safety for the Noles. He makes a lot of sense here...he'll allow Burnett to play closer to the LOS a little more often, and in a league that's becoming more pass-oriented, a safety with experience and skills to cover receivers is a plus.
As a Senior, Brooks collected 56 tackles with 8 coming for loss, knocked down 5 passes and forced 2 fumbles, anchoring the back end of one of college football's premier defenses.
Watch Brooks' highlight reel.
Watch Brooks play Pittsburgh in 2013.
Watch Brooks against NC State (2013)
3rd Round (Compensatory Selection) - 98
Christian Jones, Inside linebacker, Florida State
6'3" 240 lbs.
That's back to back Florida State guys. Why not? Hell, they won the BCS title and had one of the top defenses in the nation. Jones should be one of the top linebackers on the board at this point, and the Packers should be looking for a replacement for (Brad) Jones or Hawk. Both can play, but neither are anything special and together they're taking up a decent chunk of cap space.
After playing linebacker as a Junior, Jones proved his versaility as a Senior when he played a lot of defensive end. His tackling numbers dipped from 95 down to 54. He also had 7.5 tackles for loss, 2 sacks and an interception as a Senior. Jones has nice tools to be effective in the NFL, with good length and good movement skills for his weight. He's a good fit at inside linebacker for the Pack.
Jones against NIU (2012), playing linebacker.
Jones against Clemson (2013), playing defensive end.
4th Round - 121
Anthony Steen, Guard/Center, Alabama
6'3" 314 lbs.
Steen started 11 games his final year at Alabama, playing well enough to earn 1st-team All-SEC honors from the AP and 2nd-team All-SEC honors from the coaches of the league. Steen is said to be polished from a technical standpoint, being a fundamental player with good strength and agility. Where Steen is limited is in his length, standing only 6'3" and having arms only 30 1/2" long.
Steen should get work at Center to compete with J.C. Tretter. He'll likely spend his first season backing up the interior line positions.
A partially torn labrum kept him out of the Senior bowl and NFL combine. He aims to compete at Alabama's April 8th pro day for scouts.
Steen against Virginia Tech (2013)
5th Round - 161
Tajh Boyd, Quarterback, Clemson
6'1" 222 lbs.
Boyd slipped a bit because of a poor performance in mobile, but he still has traits that you look for and some stellar college performances to look back on. Boyd measures in short at 6'1", but the Packers' last 4 rostered Quarterbacks are 6'2", 6'2", 6'2", and 5'11", so height won't deter the Packers here. Boyd possesses the arm to make any throw, but he accuracy needs to improve. The good news is his completetion percentage has improved every season at Clemson, as has his yards per attempt.
Boyd is a good athlete, who uses his athleticism to escape the pocket and get yards downfield. The downside is he takes far too many hits, despite sliding a good amount of the time. He's shown to be durable in college.
He'll have to adjust to playing in a new offense, as the Packers' O looks very little like the one he ran in Clemson. One thing that his offense in Clemson did show was his ability to consistently hit on deep balls.
Boyd threw for 3,851 yards and 31 scores as a Senior.
He will battle Tolzien to be Rodgers' backup.
Watch Boyd in against Georgia in 2013.
Watch Boyd in Clemson's bowl game against LSU.
5th Round (Compensatory Selection) - 176
Ryan Carrethers, Defensive Tackle, Arkansas State
6'1" 337 lbs.
The Packers are pretty stacked right now at the defensive end, but could stand to add a young nose tackle to the equation. Raji is one a 1 year rental, and it's tough to pencil in Boyd as the starter at Nose in 2015.
There's potential here as a two-gapping lineman to help control the running game. Carrethers carries a lot of weight, and carries it decently well. He doesn't possess great quickness to get to the quarterback, but he has a good motor and always attempts to shed.
Carrethers totalled a whopping 93 tackles as a Senior for the Red Wolves. 8 came for loss, and 4 were on the opposing quarterback.
Watch Carrethers take on Lousiana-Lafayette (2013)
6th Round - 197
Kevin Pierre-Louis, Outside Linebacker, Boston College
6' 232 lbs.
Pierre-Louis projects as an inside linebacker for Green Bay. He leaves something to be determined as far as size goes, but the combine showed Pierre-Louis to be extremely athletic for the weight he carries. The man ran a 4.51,jumped 39 inches high and 128 (!!!) inches long, while putting up 28 reps on the bench. He also was a top performer in the 20 yard shuttle among linebackers.
There's plenty of potential here, and his elite athleticism and compact frame could allow him to be effective even at only 232 pounds. He also looks like a potential special teams stud.
Pierre-Louis was a staple for BC's defense last season with 108 stops, including 10.5 for loss and 6 sacks. The guy looks like a seriously underrated prospect.
Watch Pierre-Louis against Duke.
7th Round - 236
Trey Millard, Fullback, Oklahoma
6'2" 247 lbs.
With the Packers finally having a solid rushing attack to commit to, they need to make sure they have a fullback who can lead block. Millard did plenty of that as a Sooner, and his size should translate well to the next level. Millard has also shown versatility, as a pass catcher and a runner, and lines up in many different spots on the field. If his rehab from a Senior-year ACL surgery goes well, he should be good to go by September, and even as early as August.
In a full Junior year campaign, Millard amassed over 500 yards from scrimmage with 4 scores.
Watch Millard against Texas Tech.
Undrafted Free Agents To Target
Kenny Guiton, Quarterback, Ohio State
6'2" 200
Played really well against weak competition while Miller was hurt.
David Sims, Fullback/Running Back, Georgia Tech
5'11 235
Played B-back in college, which is a running back who lines up as a fullback. Will be a transition to fullback but I like his athleticism at 235 lbs.
David Fluellen, Running Back, Toledo
5'11" 224
Big, physical runner. Not slow, but not very fast either.
Isaiah Burse, Wide receiver, Fresno State
5'10" 188
Small receiver with average athleticism, but a plus in return skills.
Gator Hoskins, Tight End, Marshall
6'2" 244
A nice 244-lb athlete who may have to give fullback a try since he's only 6'1"/6'2".
Donald Hawkins, Tackle, Texas
6'5" 301
Has OK height, but is a little slight for his position. Hawkins was named 2nd team Big 12 by the AP.
Kevin Danser, Guard, Stanford
6'5" 312
Rob Rang thinks Danser was overlooked at Stanford. Understandable, since David Yankey was the other guard for the Cardinal.
Jonotthan Harrison, Center, Florida
6'3" 304
Started 39 games at UF and has nize length for a Center (33 3/8")
Beau Allen, Defensive Tackle, Wisconsin
6'3" 333
Did well eating up space at nose tackle for Wisconsin. Not a superb athlete and offers little as a pass rusher, but can help against teams that pound the rock.
Ben Gardner, Defensive End, Stanford
6'4" 277
A Wisconsin native, he looks like a good fit for the 3-4 at End. Has the length, just needs about 10 more pounds on him.
Ik Enemkpali, Defensive End, Louisiana Tech
6'1" 261
Modest but consistent production, the 6'1" 261-pounder projects to move from End to linebacker. Great name.
Marquis Flowers, Inside Linebacker, Arizona
6'2" 232
A former safety who bulked up to play a hyrbid role for Arizona. Flowers moves well in space and should have good cover skills.
Lavelle Westbrooks, Cornerback, Georgia Southern
5'11" 186
Small school corner with decent size.
Brock Vereen, Safety, Minnesota
6' 199
Veeren is slight at 199 pounds, but he's fast (4.47) and produced a lot as a Gopher.
Dezmen Southward, Safety, Wisconsin
6' 211
Southward disappointed this season as he noticeably struggled at times in pass coverage and didn't make many plays, but he still intrigues as an above average athlete.




There you have it. I feel like I hit every major need, and filled out the roster with intriguing prospects who are being overlooked and undervalued.