Richard Rodgers, Justin Perillo and (of course) Colt Lyerla.
There's no doubt that the Packers have taken advantage of this offseason to restock their tight end group. Add them to Andrew Quarless, Brandon Bostick Jake Stoneburner and Ryan Taylor, and you've got enough competition to satisfy Jerry Fontenot and just about any other position coach in the league.
Quarless is an excellent second tight end an a competent first-string; he can catch passes readily and block capably, but he won't be commanding a whole lot of attention from defensive game plans any time soon.
Rodgers (Or Rodgers II, as he apparently plans to print on his jersey) essentially played wide receiver in the "Bear Raid" offense during his junior season at Cal, but pundits worry that his pedestrian forty-yard dash times will render him unable to stretch defenses, leaving him nothing but his undeveloped blocking skills to fall back on.
Brandon Bostick has shown a load of physical potential since being picked up as an undrafted wide receiver out of Newberry College (S.C.), but that's pretty much been the story with him. As FOX Sports Wisconsin mentions in their breakdown of Bostick's season, he plays with a ton of athleticism, but very little refinement. Like Rodgers, it's unclear if he'll ever become a solid blocker.
While Justin Perillo is probably a camp body, Colt Lyerla has the athleticism to fit into the Packers offense, assuming he gets past the off-field issues. Lyerla will have to work on his consistency, however, and it's unclear whether he will be ready to assume a major role by Week 1, a question which may only be answered in July and August.
Notice a common theme?
What if the Packers could have an experienced tight end with plenty of athleticism and knowledge of the Packers playbook, a guy who has already built a rapport with Aaron Rodgers, a player who understands his fit within the offense, an athlete who has shown the ability to produce at a high statistical level?
Jermichael Finley awaits. If the good news he heard earlier this week is any indication, his recovery process is in full swing. While, as Jason Hirschhorn made clear in his article on the subject, the ordeal is far from over, there will likely be a point this summer when teams start knocking. And Green Bay should be the first at the door.
What Finley Offers
While he's been criticized for dropping key passes, here's no doubt that Jermichael Finley is one of the most dangerous tight ends in the NFL when the ball is in his hands. Once the pigskin is secured, Finley is a dangerous combination of angry fullback and elusive wide receiver, trucking and outrunning in equal measure. Of all of the tight ends on the roster, only Brandon Bostick has shown that ability as a professional in so much as short spurts.
This play (click on the gif if it doesn't play) is signature Finley. He catches the ball and then proceeds to run his way around (and through) five hapless Redskins defenders before finally being tackled. Bonehead moments aside, Finley would be the only player on Green Bay's roster with the consistent ability to do this.
Finley also boasts experience in a starting role, an attribute he shares only with the far less electric Andrew Quarless. Naturally, the talented Texas Longhorn will need a bit of time to reacclimatize to life on the football field, but when he does, he'll be ready to step in and contribute immediately. Players like Lyerla, Perrillo and Bostick face much steeper learning curves in order to see significant playing time.
Perhaps most importantly (if you ask Aaron Rodgers, anyway), is that Jermichael Finley has a rapport with Aaron Rodgers. While the two have not necessarily had a seamless relationship, Rodgers knows where Finley will be, and the result is a completion more often than not. We learned what happened when Rodgers threw to an unfamiliar target i Jarrett Boykin.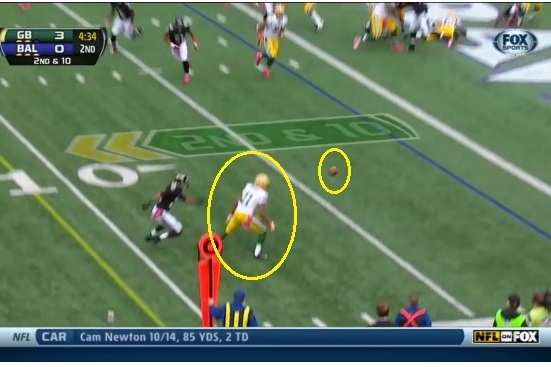 While he'll certainly have more than a minute or two on the sideline to adjust to his new tight ends, it never hurts to give your top-tier franchise quarterback a playmaker he's had success with before.
Why the Time Might Not Be Right
Mike McCarthy has exhibited nothing but optimism regarding Jermichael Finley's condition this offseason, but the team has shown through its actions that it's ready to move on. Richard Rodgers sure isn't being brought in to maul linebackers, and the third-round pick invested in him would suggest that the team isn't going to make him compete for the third tight end spot. The UDFA flyer taken on Oregon's Colt Lyerla, while certainly not the abomination one Bob McGinn might suggest it was, was a bit uncharacteristic, and if anything, it exemplifies the coaching staff's willingness to look in unconventional places for Finley's successor.
It's also clear that Green Bay wouldn't be the only suitor who would want Finley, assuming he clears the interested party's physical. New England needs a second tight end to provide insurance for Rob Gronkowski and enable the two-TE sets the team ran with Gronkowski and Aaron Hernandez. Seattle was rumored to be close to signing Finley before he failed a team physical, and John Schneider, a Packers front-office member through the tight end's career, would understand exactly what he's getting. Even the Giants may make their presence known, as Finley is familiar with their new offensive coordinator, Ben McAdoo, as his position coach for much of his career. With Ted Thompson presumably focused on re-signing players like Jordy Nelson, Randall Cobb and Bryan Bulaga, Green Bay will probably have little interest in engaging in a bidding war for Jermichael Finley's services.
Combine Brandon Bostick's athleticism, Andrew Quarless' hands and Colt Lyerla's elusiveness, and you have a rough approximation of Jermichael Finley. The position is hardly barren without the veteran, and regardless of whether he is signed, the competition to start at tight end will be one of the team's more heated battles through training camp and the preseason. Should the stars align, however, Ted Thompson would be wise to sign Finley to a new contract: an old friend for a quarterback who will head a team that promises to reach new heights.